Bonneville 2010
I travelled to the holy grail of Bonneville this year without the Big Velo …..I went with Terry Prince and his Vincent sidecar outfit and also caught up with fellow Australian salt addict Mal Hewitt and his record breaking solo Vincent……. This trip was a fact finding mission before I take the Velo over in the next year or so……..buy lots of Tee shirts to help me pay for it !!!!!!!
I spent some time with Terry building the new tail and sidecar streamlining before we left… Alas the fuel gremlins hit at the Bonneville altitude but the bike still managed 120 odd mph record run ……. and that was on occasional one and a bit cylinders !!!!!!! A point to ponder ………the beautiful original Black Lightning ran perfectly but only managed in the high 130mph range and Mals highly developed powerful 1200cc bike set records in the mid 150 range…..
The biggest difference between the salt racers in the USA and Australia………….. the accent !!!!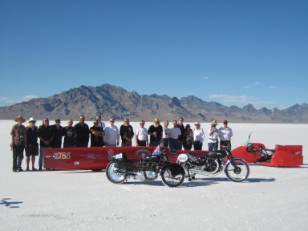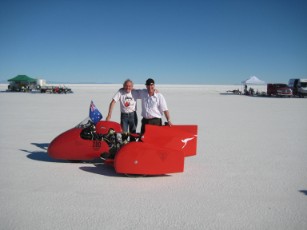 Terry and myself…… He made me turn the Velo cap around !!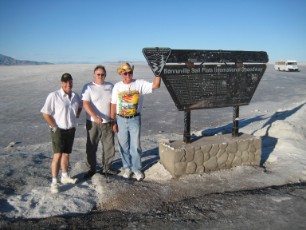 The Beagle boys at the famous bullet riddled sign!!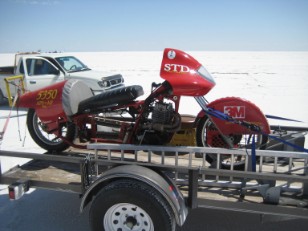 Another way of making a single go fast , its not all big bucks.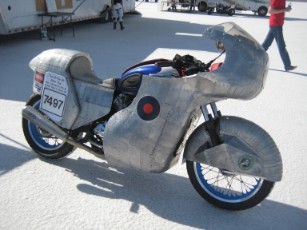 A novel approach to streamlining.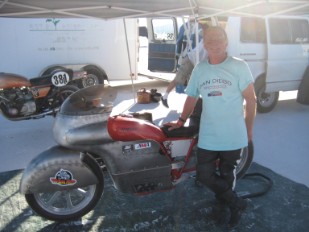 Tony with his lovely little SR 500 Yamaha couldnt quite manage 120 mph.